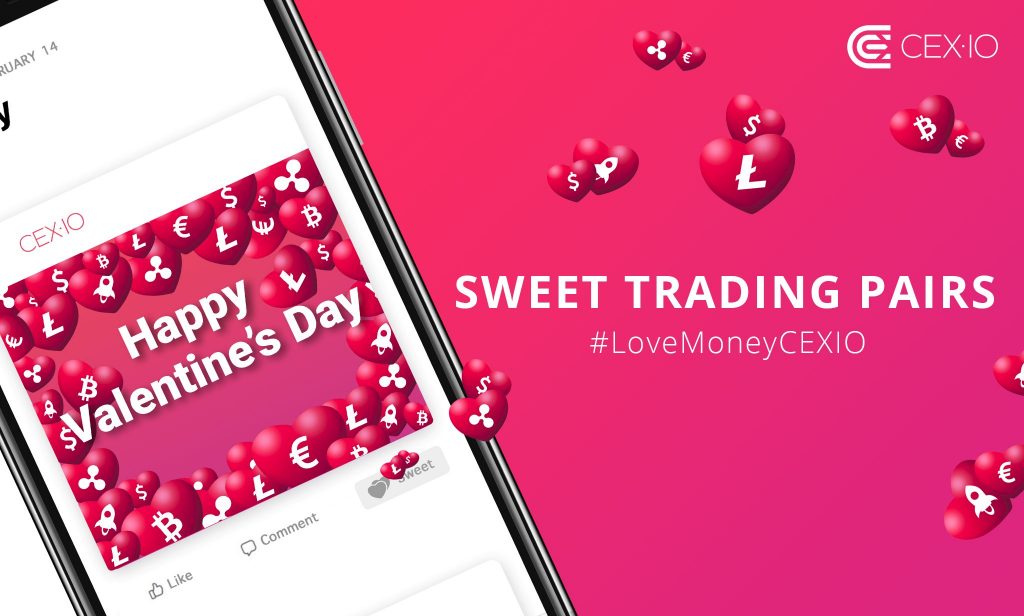 This Valentine's Day, we would like to help our customers express their love. So we've prepared presents for you to celebrate this lovely holiday together.
0.01% Fee on Sweet Trading Pairs
We are excited to introduce dramatically reduced fees for the XLM/USD, XRP/USD, LTC/USD, BTC/EUR, XRP/EUR, and XLM/EUR pairs. From February 13, 2019 at 12:00 AM UTC through February 15, 2019 at 11:59 PM UTC, you can place market and limit orders for these trading pairs for only a 0.01% fee. This applies only to the trade section of the website. We hope you will enjoy the opportunity and use it for your benefit.
Get a Subscription from CEX.IO
We wanted to give you even more than just a trading opportunity, so we have another great offer for you. On our Facebook page, we will post several images associated with love. Share the image that most appeals to you. If the image you have chosen has the most shares, you will win a subscription to a service like Amazon, Spotify, PornHub, iTunes, or Google Play.
On February 15, we will identify the post with the most shares, and all users who have shared that post will get a free subscription from us. We will arrange it by the end of the next week. The subscription you win will depend on your location, since some services are limited to specific regions.
How to Win a Subscription
Winning a subscription from CEX.IO is easy:
Make sure you're a registered CEX.IO user with a confirmed email address.

Pick the image that appeals to you most from those that we post on our Facebook page on February 14, 2019 and share it. To be eligible to win, you can share only one image.

The image that gets the most shares by February 15, 2019 will be the winner.

All users who have shared the winning image will get a subscription from CEX.IO.

After we identify the winners, we will choose between the subscriptions to services like Spotify, PornHub, iTunes, and Google Play, etc. depending on your location. Unfortunately, some subscriptions may be unavailable in some countries, so we cannot guarantee which specific subscription you will get.

Our Social Support team will contact you and ask about your CEX.IO user ID and location.

We will take care of your subscription and you will receive it to your email.
We sincerely hope you enjoy celebrating Valentine's Day with CEX.IO. And let the love go on!