The Bitcoin price surge is in full effect as the cryptocurrency has recently climbed back, for the first time, above the $5,000 level following a 30% price increase over the past 30 days. The king of cryptocurrencies now holds a $90 billion market cap value as it continues to close in on the $90 billion levels.
BTC Transactions Are On The Rise
With the recent price surge of Bitcoin, the coin has crossed the 400K daily transactions mark. On April 2 the recorded number was 401,500 confirmed transactions. This is the first time that Bitcoin has managed to break over the 400K transactions per day since January 4, 2018, more than a year ago. Besides, January was the peak of the 2018 crypto bubble.
Adding further to this data, the total number of transactions per block has recently reached a level that rivals the December 2017 popular crypto bull-run.
As anticipated, we can also notice that during April 2019, the average number of transaction per block has reached the 2,750 level, a level that had last been seen during the height of the previous bull run in late December 2017.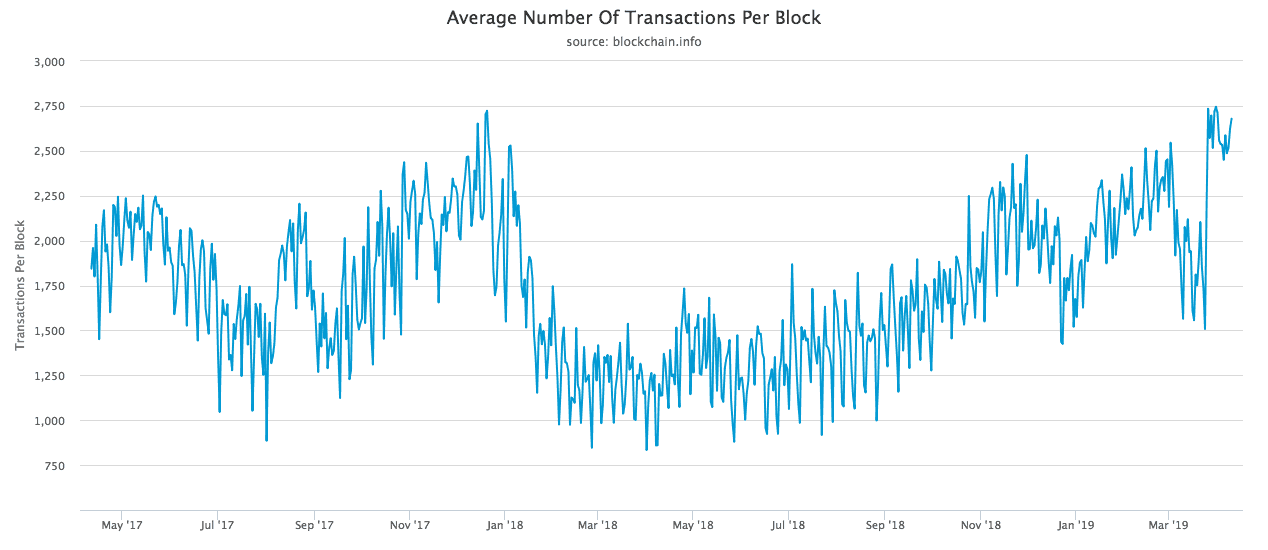 Total Bitcoin Transactions Surpass 400 Million
Another transaction milestone recently broken by Bitcoin was the total number of transactions processed: On April 9, 2019, the total number of Bitcoin transactions passed the 400 million mark, surpassing another legendary major milestone.
In conclusion, Bitcoin was always seeking for adoption. The cryptocurrency, along with the many altcoins, is driving lots of speculative traders that find the crypto assets very attractive to trade on. But besides the exciting Bitcoin price, in order for Bitcoin to penetrate to day to day life, we need to see stats, such as the above, continuously growing.
The post Bitcoin Has Achieved 400K Transactions Per Day: For The First Time Since January 2018 appeared first on CryptoPotato.